http://themetapicture.com/this-one-has-amazing-skills/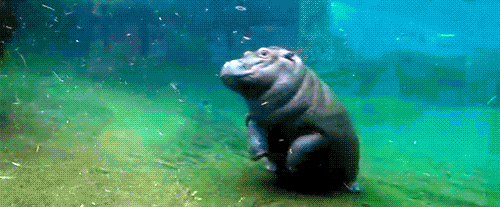 It seems as the universe was telling me it was time to learn to flip turn.  My friend, Dionne, spent a few minutes teaching us how to flip turn and then the next Masters Swim class I attended was focused on the flip turn!
In class, our coach had us practice the following for a couple of lengths:
Torpedo:  Swim normal and then put your arms to the side and glide.
Bow:  Swim, Torpedo and then slightly dip your head for a couple of inches.
Flip:  Swim, Torpedo and then Bow all together.
Chair at the wall:  Practice pushing off the wall with legs at a 90 degree angle.
Gauging distance:  Try to figure out the best distance to turn.
Jump start:  Start standing a few feet away from the wall.  Jump up and take a stroke and flip turn to practice.
Putting it all together:  Swim 25 and flip!  Easy peasy, right?
Jumping over the lane line:  What you see in the animated picture above.  My coach had me try to flip over the lane line to get an idea of hinging at the hip.  I was apprehensive since the other swimmers were coming quickly down the lane.  Yeah, I got stuck and flapped my arms to try to flip myself over.  Just like the hippo above!  It was hilarious!
I pleased to say that after a few weeks of practice, I'm getting the hang of the flip turn.  I'm still afraid to try it if I'm sharing a lane, but I've been able to flip while I was in a lane to myself.
Yay for new skills!!
Related articles:
http://www.active.com/swimming/articles/learn-to-master-the-flip-turn-877772